Agenda
July 2019
Mass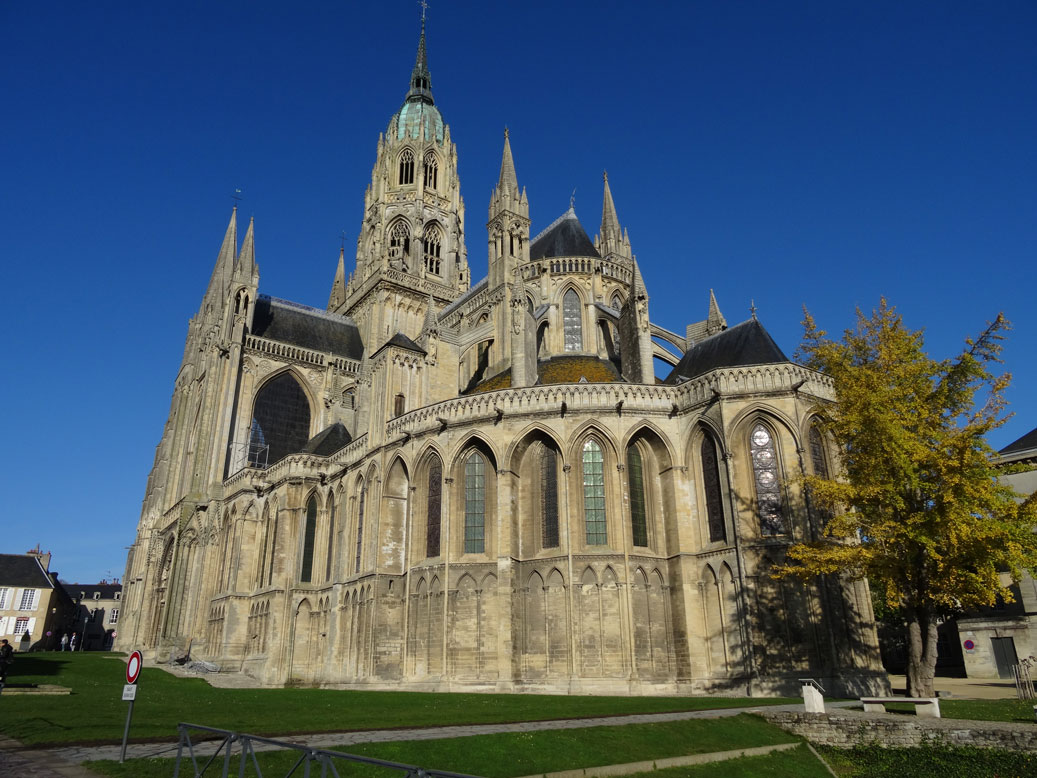 Book fair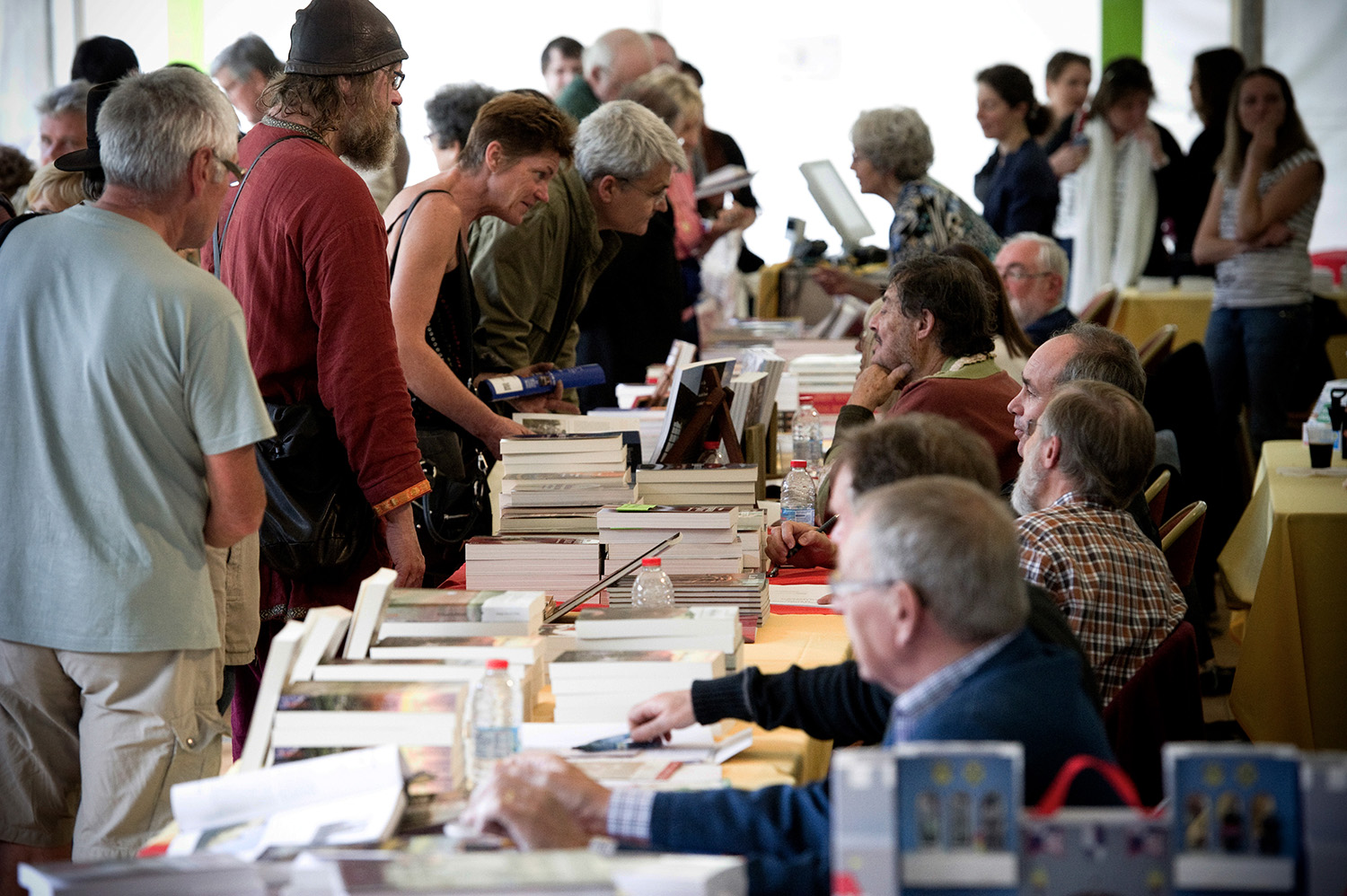 Salon du Livre
During the weekend, the book fair is an opportunity to meet the authors who highlight the medieval fantasy in their books. A dozen authors ranging from youth to university essay through illustrated novels and comics. The Book Fair is also 5 publishing houses and 2 partner bookshops: Métropolis and Espace culturel Leclerc.
Wandering the streets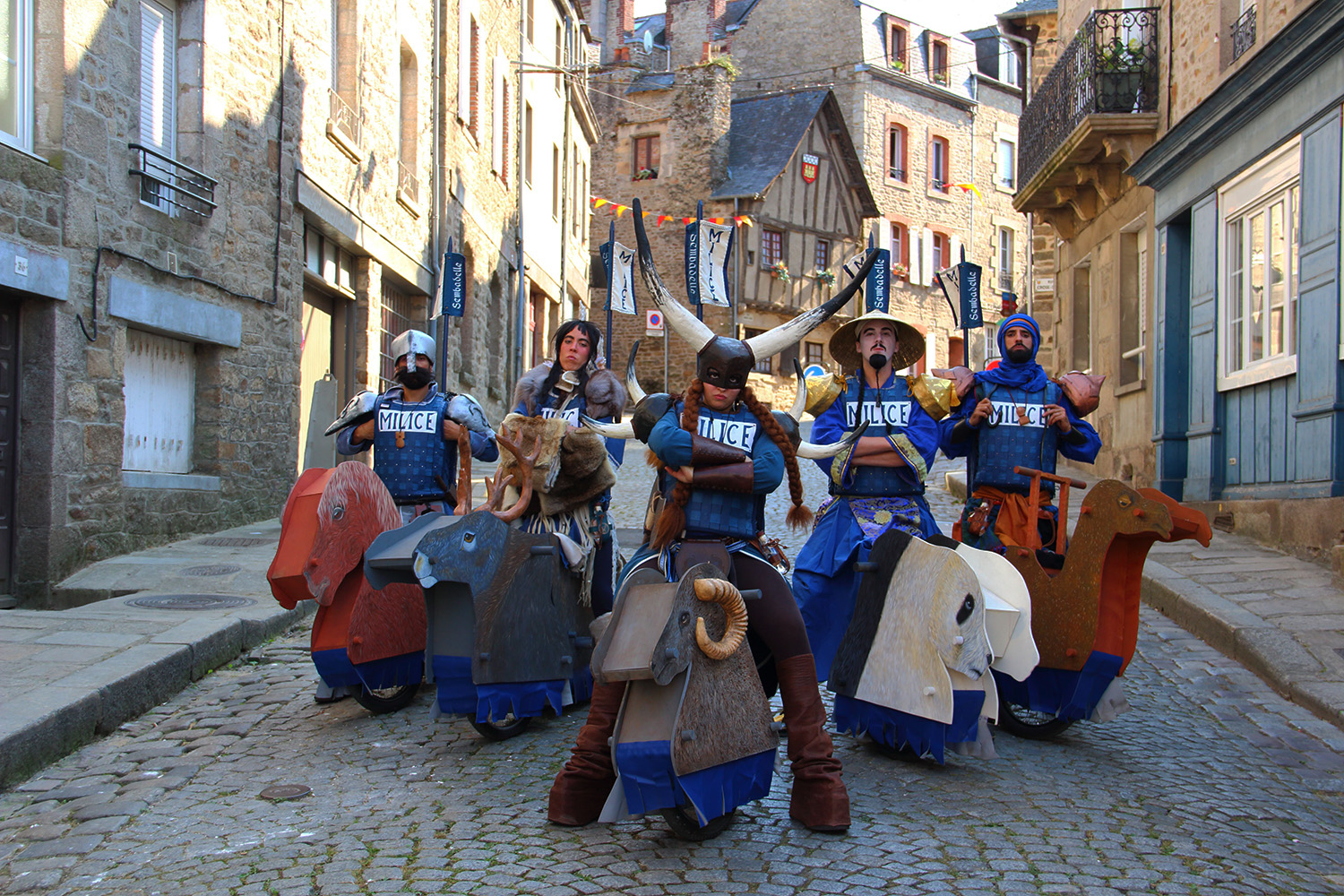 Militia
By Sembadelle
 So the King decides to create an elite patrol to put his subjects' minds at rest. Five fighters and their faithful mounts from all around the world are recruited and trained – the Militia!
Wandering the streets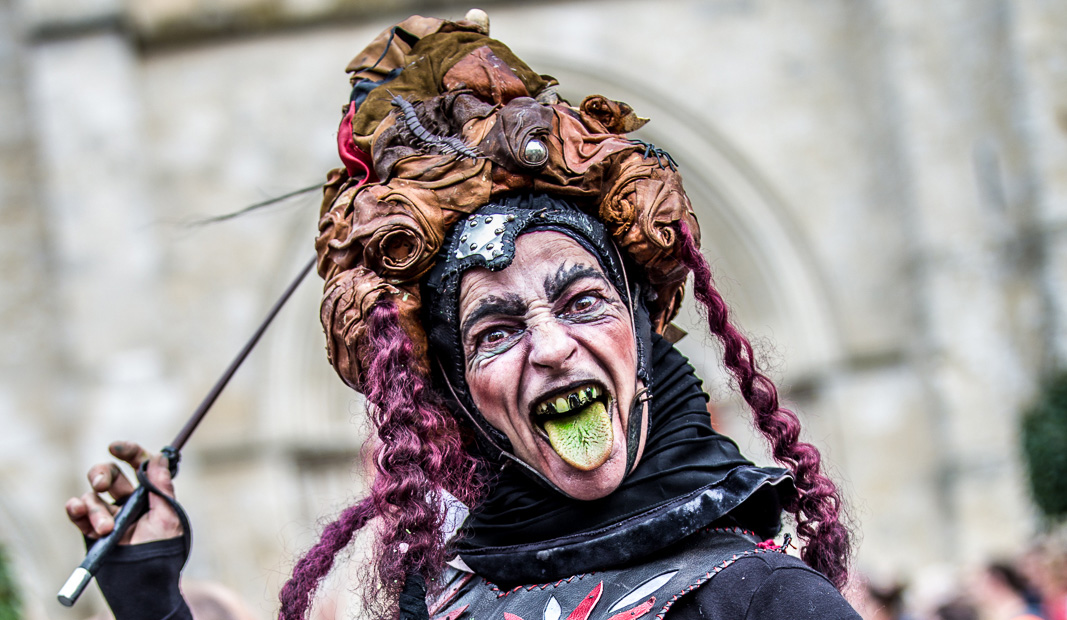 Abracadabouc
By Sonjévéyés
Exuberant witches appear with Machiavellian laughter and deafening cracks of their whips. They dance around their steaming cauldron, swirling in the flames and joyfully teasing passers-by. 
Wandering the streets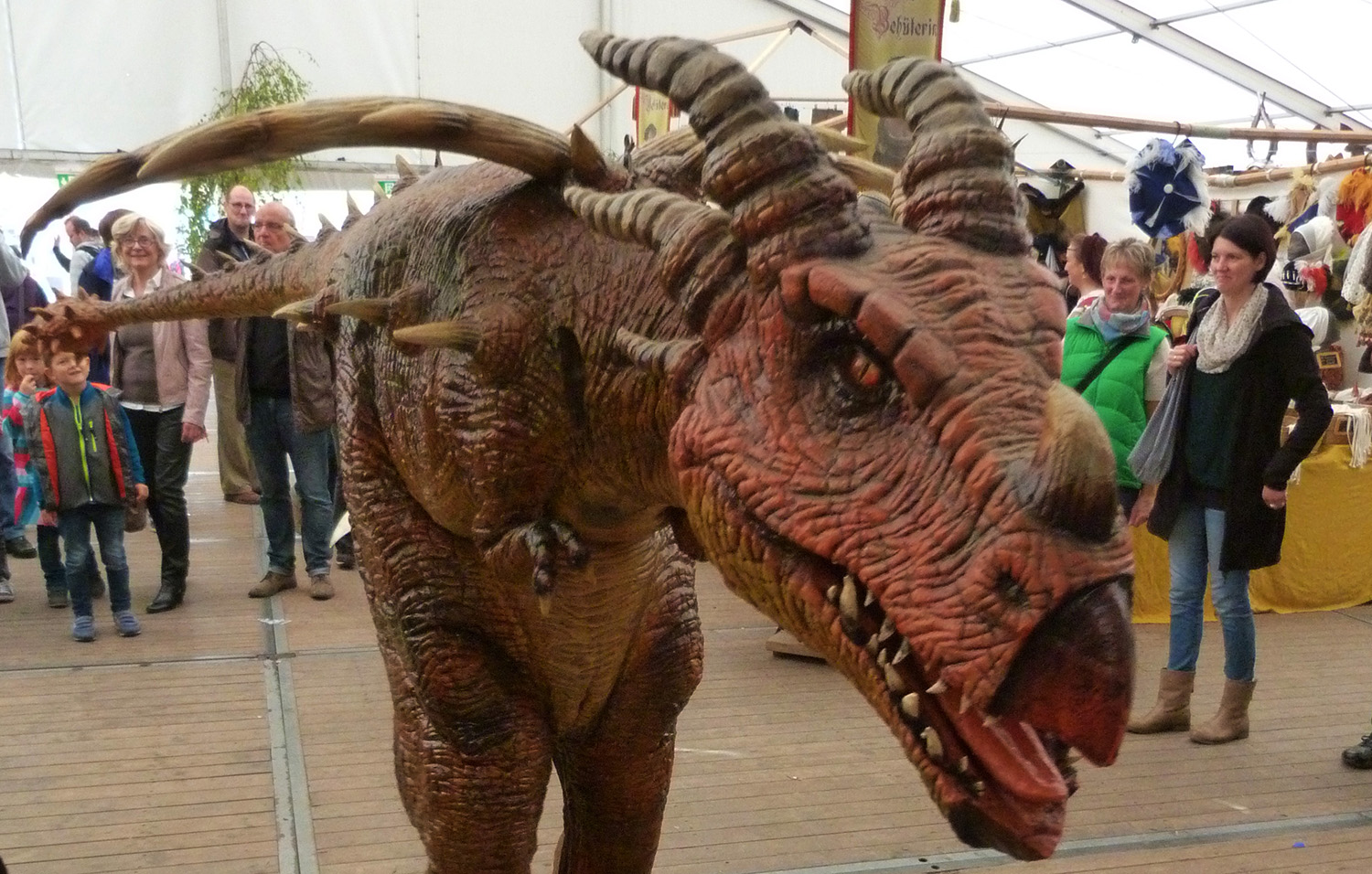 LE MESTRE DRAGONNIER
By Cowprod
Two accomplices steal an egg without knowing what has laid it. In the middle of the night there's a deafening noise, and they discover a baby dragon, Vikthor, which they decide to raise…
Wandering the streets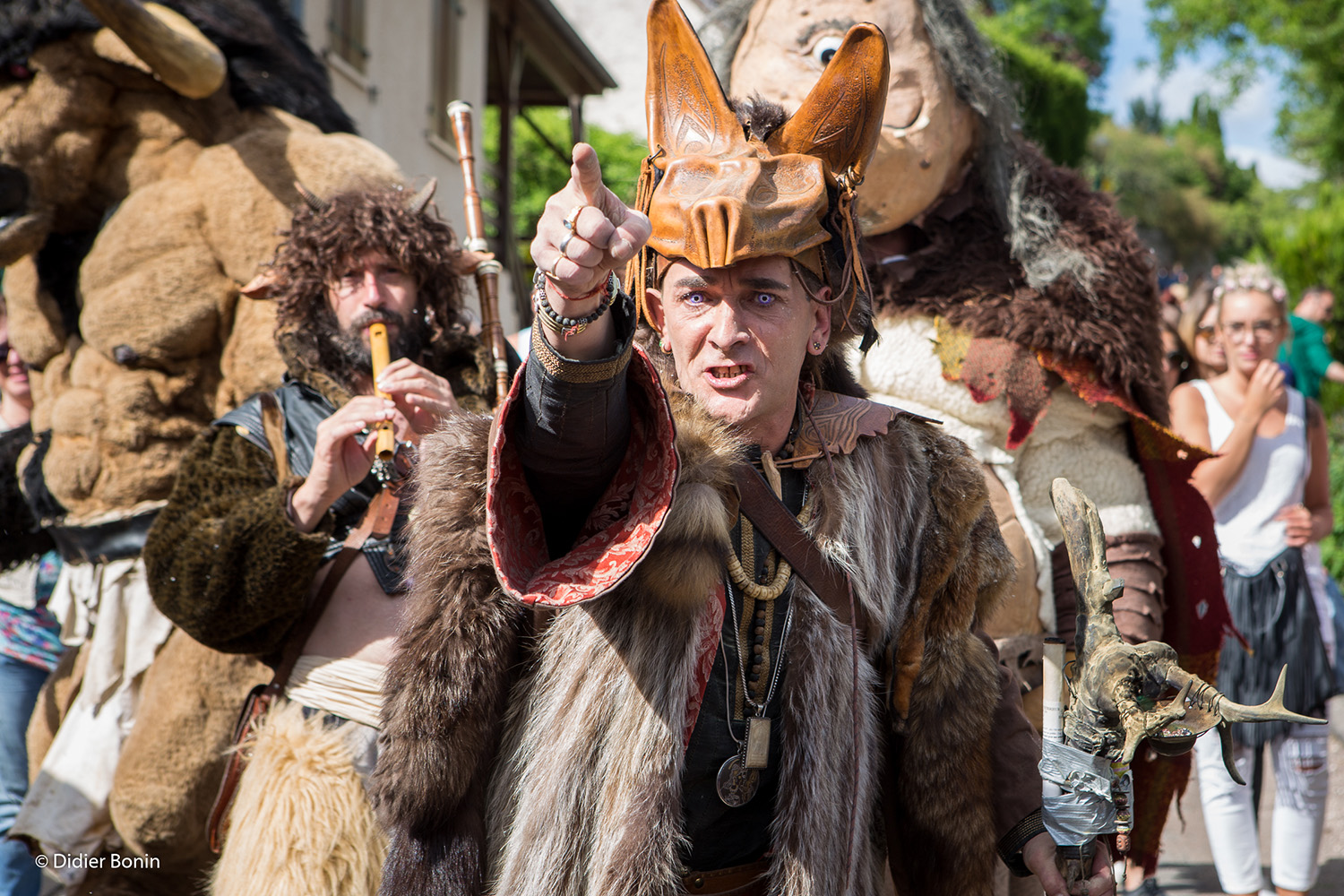 Bestia
By Compagnie du Bord des Mondes
Costo the minotaur, Cyclope the ogre and Satyr the funny faun are led by a wizard who makes them do tricks and clever feats.
Wandering the streets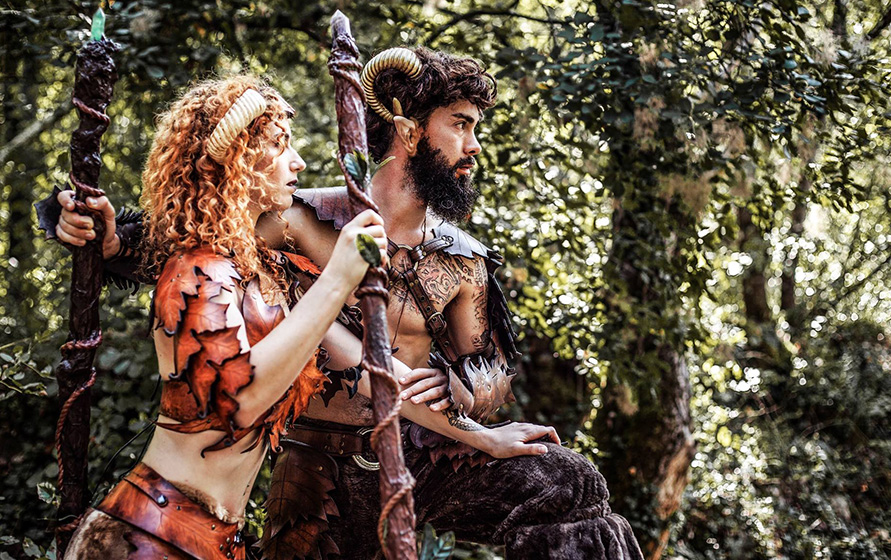 Les Faunes
By Arte Flammes
Creatures, half man half goat who entice the adventurous into the forest of which they are the custodians.
Street theatre

LES DIABLOTINS
By Soukha
These devilish characters create bonds with children and like to  disturb the grown-ups. Fascinating and unsettling, always on the lookout, they roam the streets in a demonic cavalcade. The she-devils push their way forward with tribal dances, acrobatics and the din of beating drums! 
3:30pm-4:15pm
PLACE DE GAULLE
8:30pm-9:15pm *only saturday
PLACE DE GAULLE
Street theatre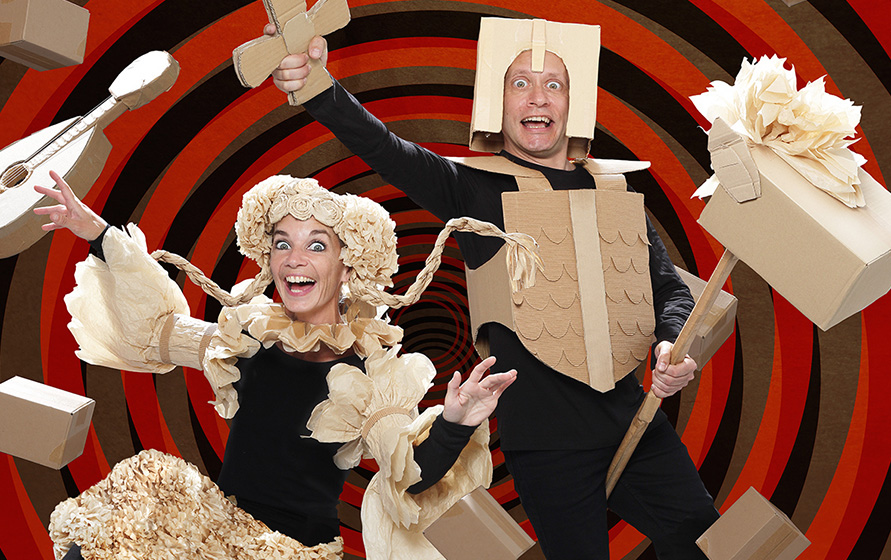 RAOUL LE CHEVALIER
By Tétrofort
Set out on an adventure with Raoul, an arrogant and clumsy knight who will do anything to save the truly blonde princess who has been imprisoned in the castle by a wicked witch. A crazy show! (45mn)
2:15pm-3pm
The play garden
4:15pm-5pm
The play garden
6:15pm-7pm
The play garden
Street theatre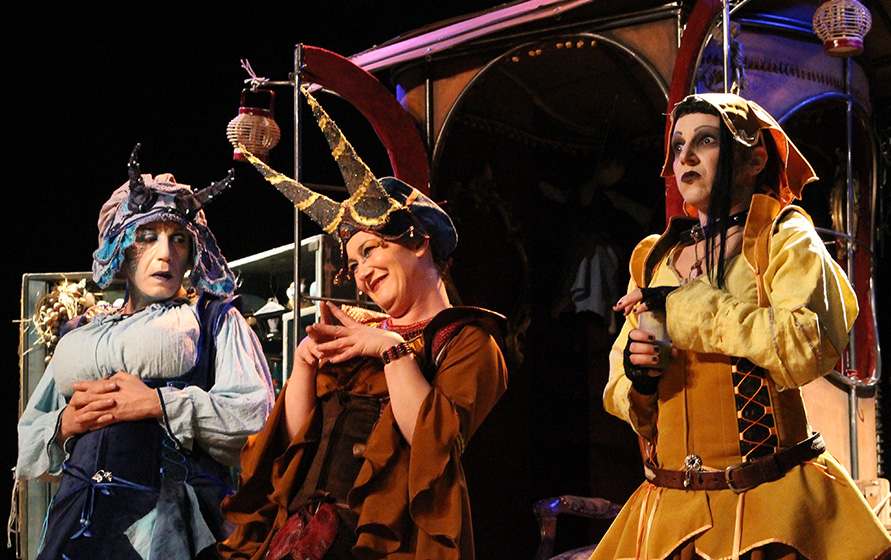 Hysteria Malefika
By Les Monts Rieurs
The chosen one, the servant and the apprentice: three witches. A cauldron, some rather inaccurate spells, some controlled (or not) mistakes which have to be seen to be believed. A delicious and somewhat diabolical show!  (30mn)
3:30pm-4pm
PLACE TOWN HALL
6:30pm-7pm
PLACE TOWN HALL
Street theatre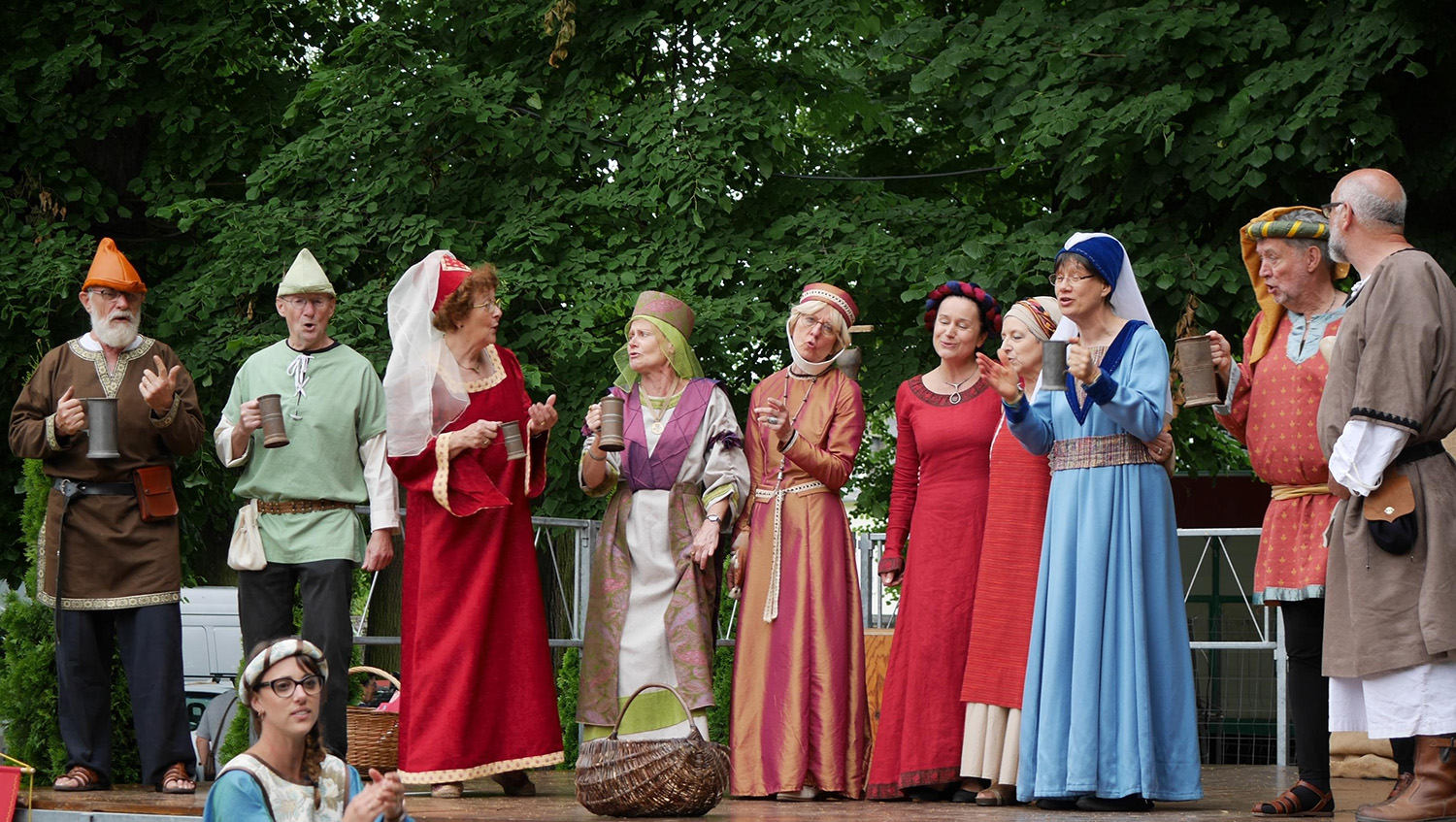 LE MANUSCRIT DE BAYEUX
By L'Orphéon
The choir gives voice to this ancient work which brings together about a hundred 15th century songs, most of them of Norman origin.
5:15pm-5:55pm
PLACE DE GAULLE
Street theatre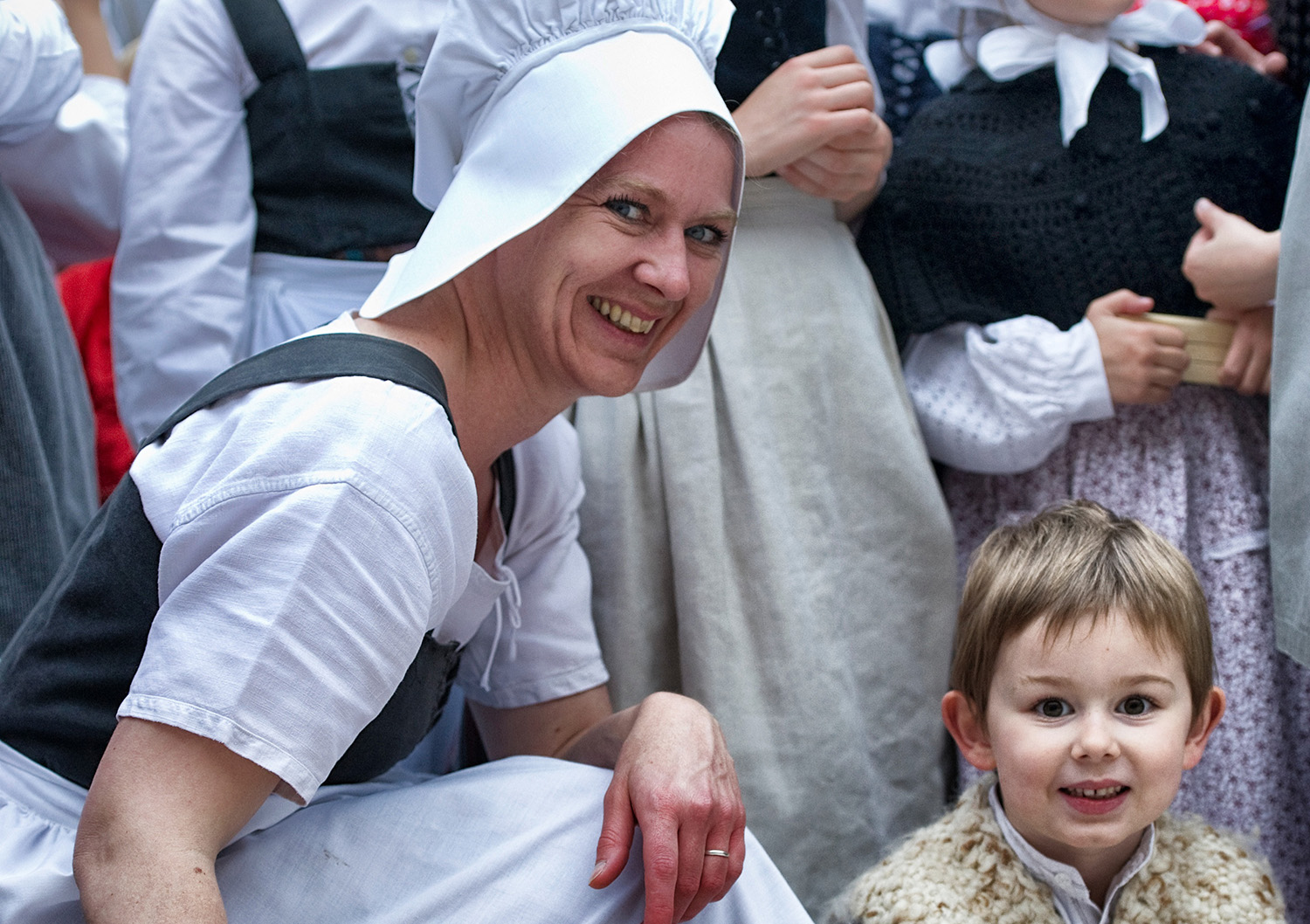 Le Gay-Sçavoir
Traditional Norman songs and dances with hurdy-gurdy accompaniment. (30mn)
4:30pm-5pm
forecourt of the cathedral
Street theatre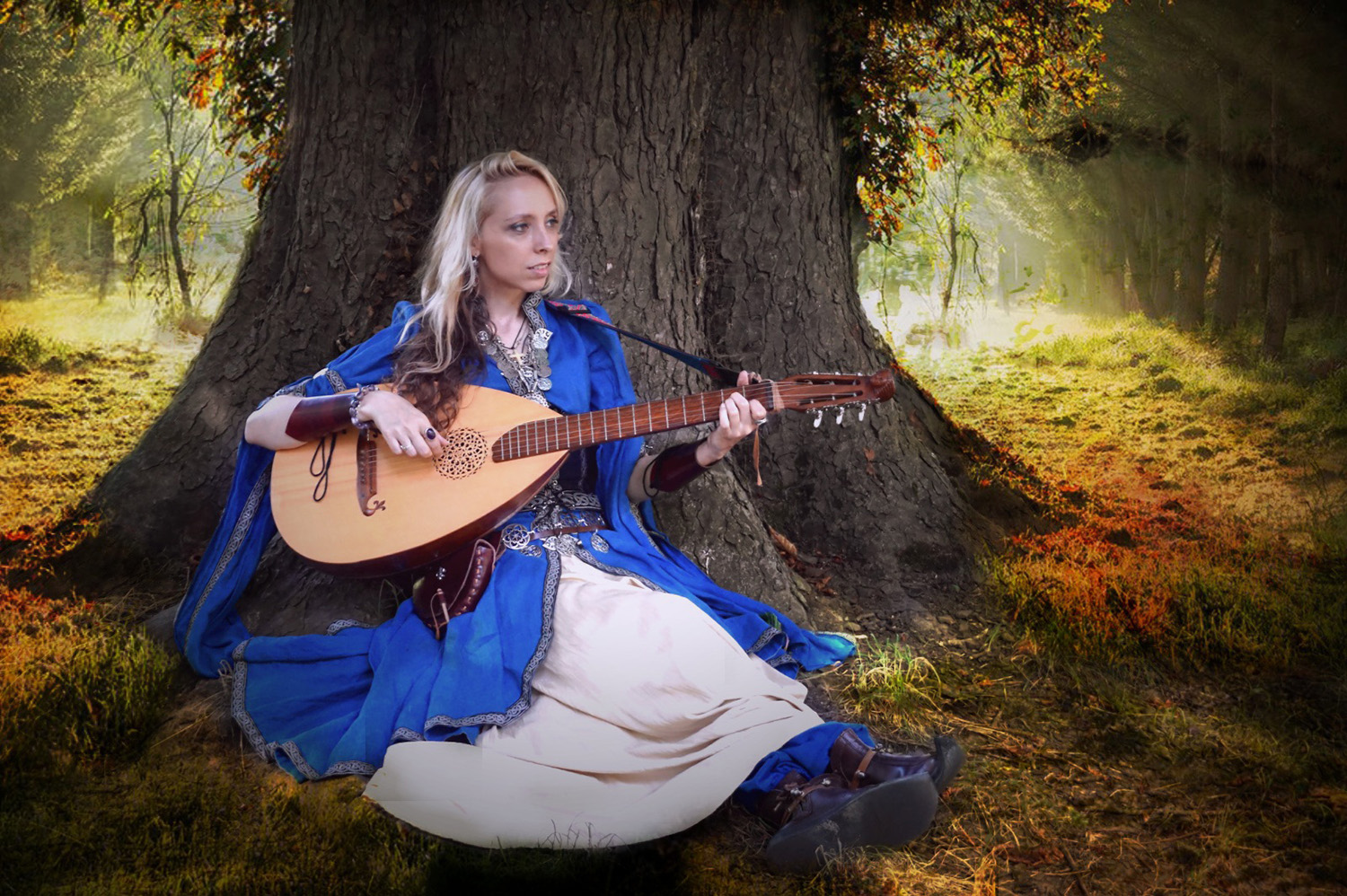 Marina Lys
Let yourself be carried away by the softness and dreaminess of this singer who plays multiple instruments as she re creates her own version of the medieval world. (45mn)
Street theatre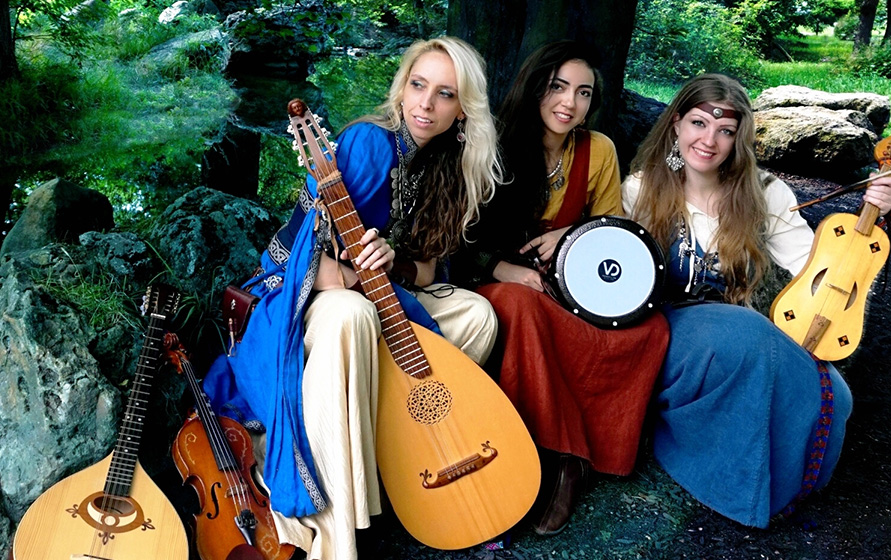 Bohème
By Jàdys
These three women musicians  will take you on a musical journey from another time, letting you discover medievally-inspired music and song from all over Europe. (30mn)
2pm-2:30pm
PLACE TOWN HALL
5pm-5:30pm
PLACE TOWN HALL
Street theatre

L'ARBRE MUSICAL
By Gueule de Loup
According to the legend the tree grew in a single night, entwining a pretty wooden cabin in its branches.  It's definitely lived in – some musicians who tell  stories of legends have made it their home. (40mn)
2:45pm-3:30pm
PLACE DE GAULLE
4:15pm-5pm
PLACE DE GAULLE
6pm-6:45pm
PLACE DE GAULLE
9:30pm-10:15pm *only saturday
PLACE DE GAULLE
Games and activities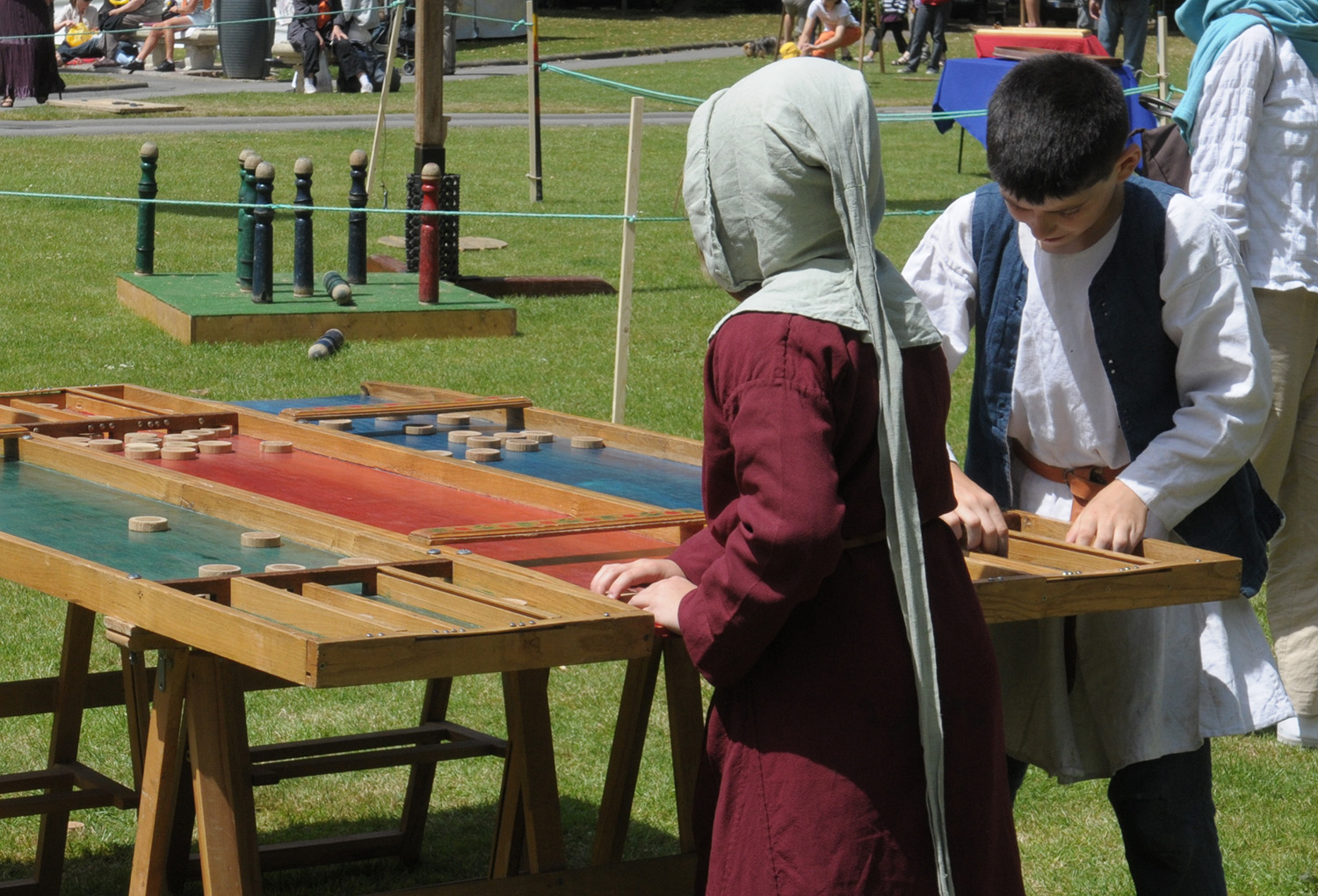 JARDIN DES JEUX
Wooden toys and team games for all ages
10 am until evening
HOTEL DU DOYEN
Skills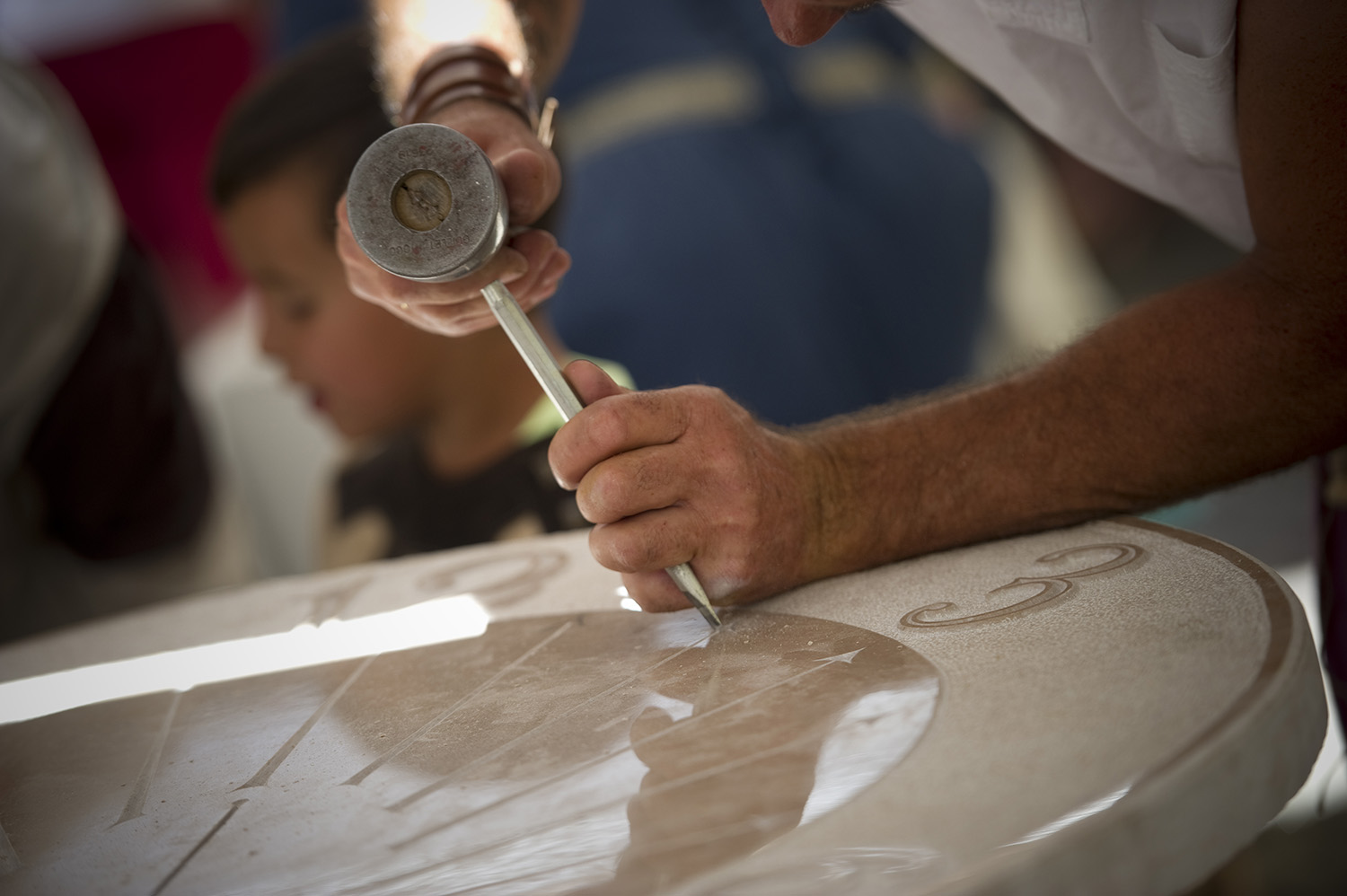 Le Chantier
Master craftsmen and journeymen share their ancient skills and know-how in aspects of building: blacksmiths, stone cutters, sculptors, carpenters….
10 am until evening
HOTEL DU DOYEN
Games and activities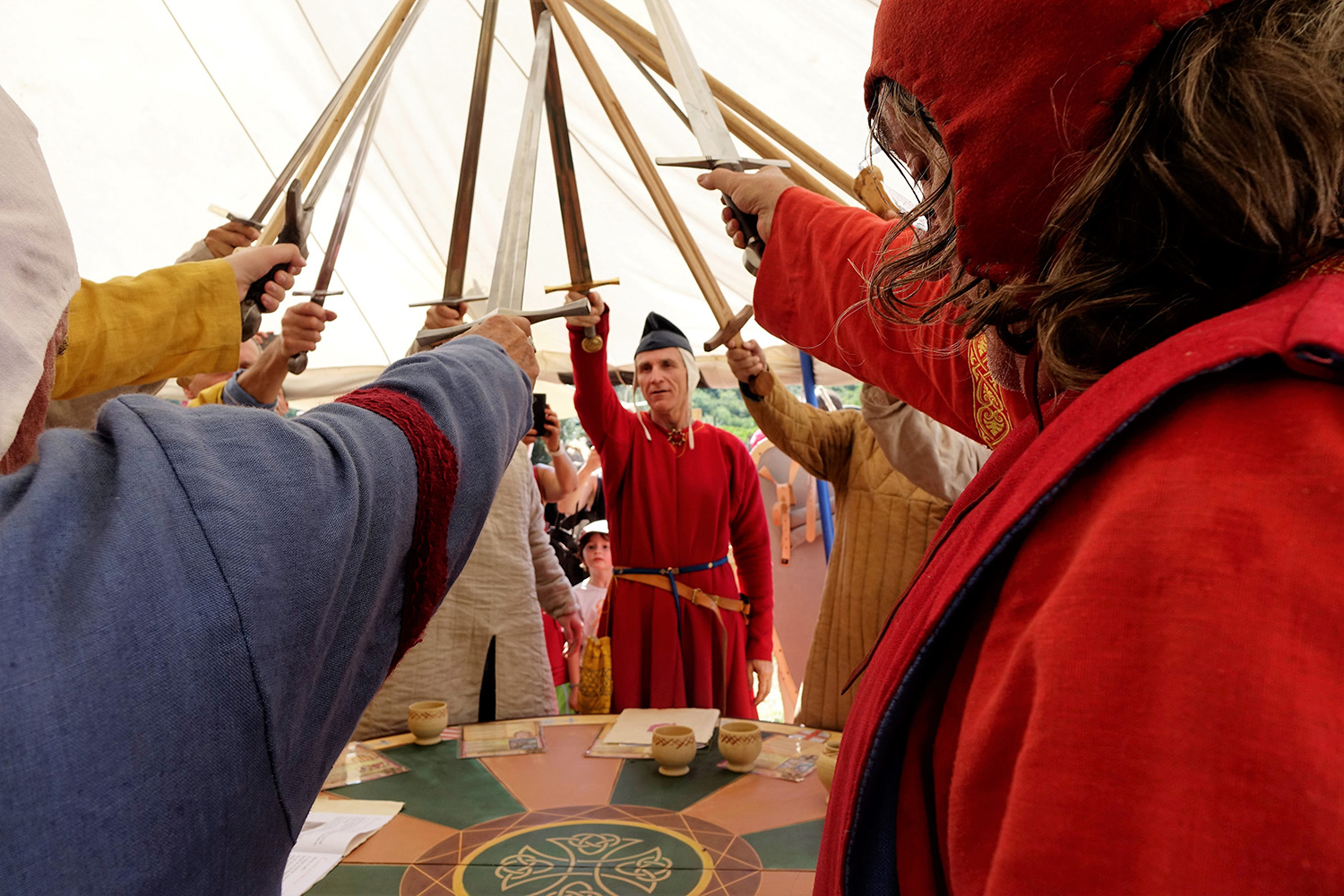 THE CONTES DU GRAAL (Grail Stories)
By Les Contes du Graal
Company will be be re-creating the camp of King Arthur and the knights who sat at his Round Table (continuous activities) . After many medieval initiation rites and trials (all fun), they will be invited to join the Round Table by King Arthur himself.
10am - 8pm (saturday)
HÔTEL DU DOYEN
10am - 7pm (sunday)
HÔTEL DU DOYEN
Heritage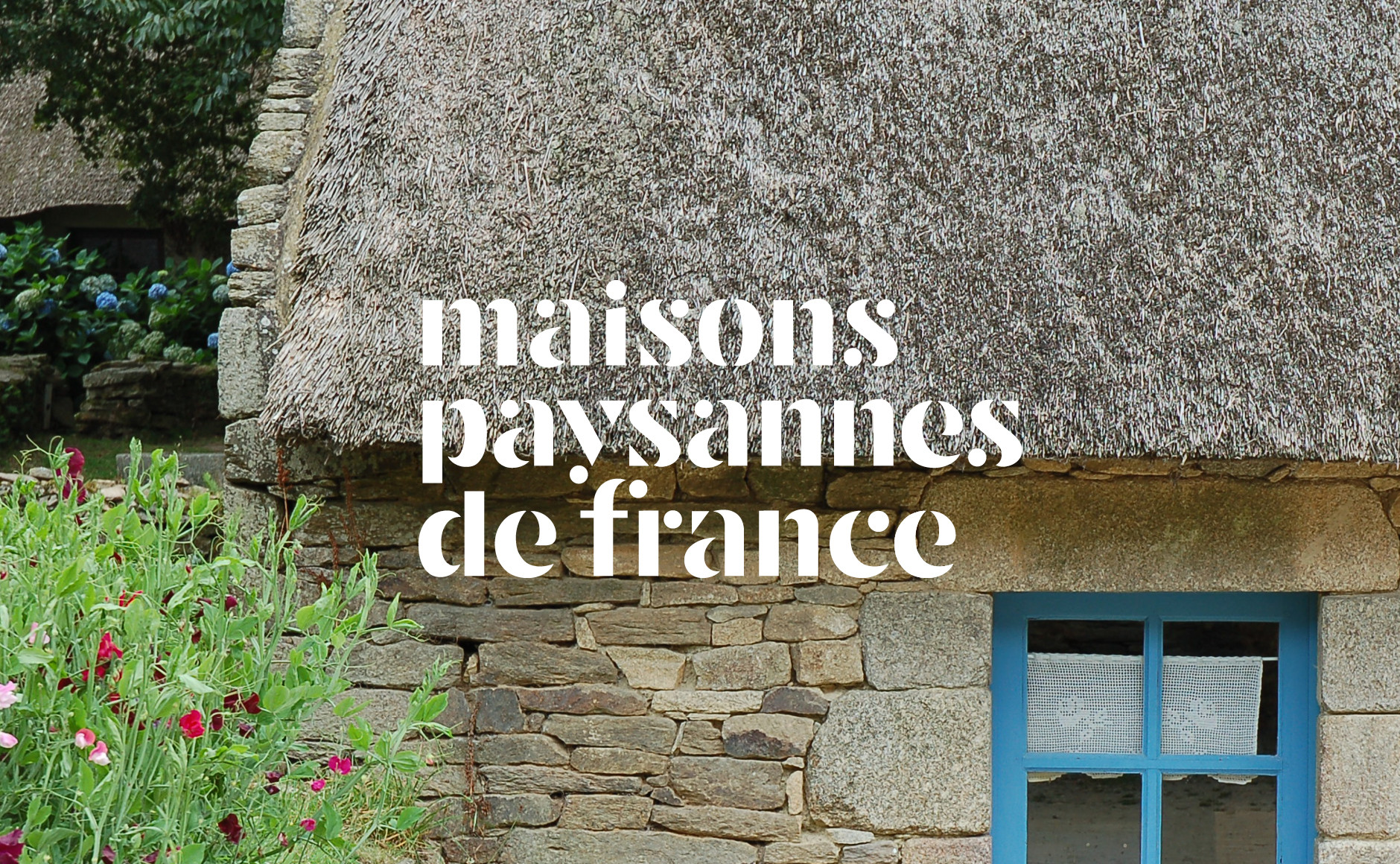 Maisons Paysannes de France
This organisation plays role in the protection of rural heritage. It aims to promote traditional farmhouses and peasant houses by encouraging their upkeep and restoration, safeguarding their ecologically sound attributes and protecting their human and environmental surroundings.
10 am until evening
PLACE DE GAULLE
Games and activities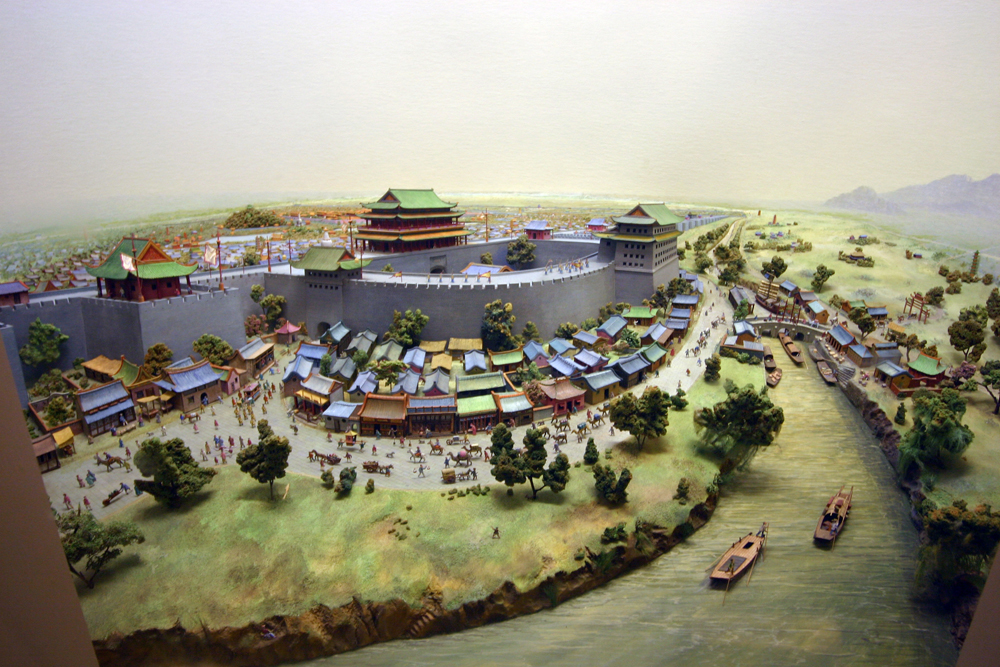 DIORAMAS ET RECONSTITUTION HISTORIQUE
By Art6
A model of the eastern part of Bayeux Castle as it was in the 13th century will be presented, together with a medieval mound and its lower bailey (at a scale of 1/72)
10 am until evening
PLACE DE GAULLE
Games and activities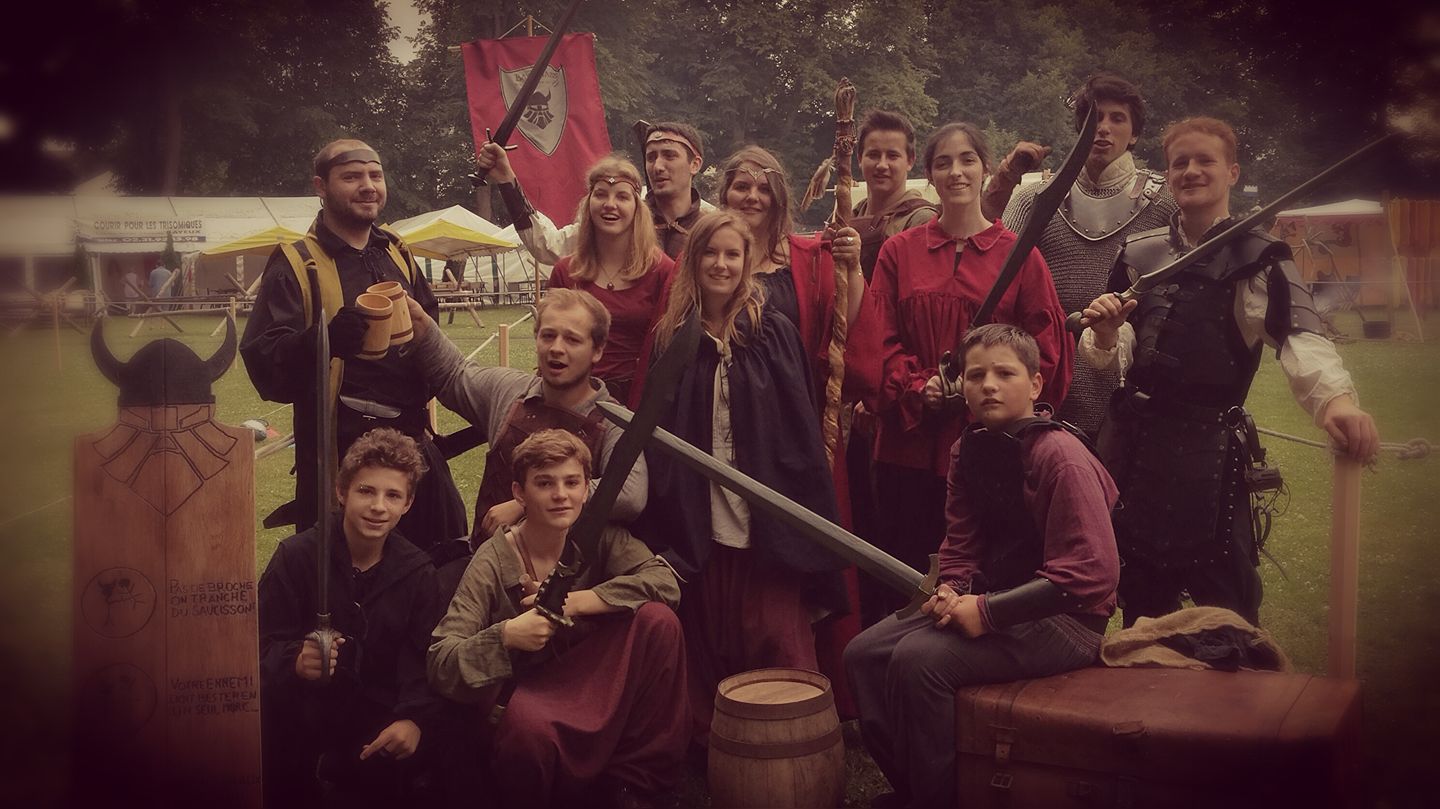 Trollball
By Les Bayeunains
Trollball is a full scale fantasy role play, a clever mixture of "rugby" and fencing.
10 am until evening
PLACE DE GAULLE
Games and activities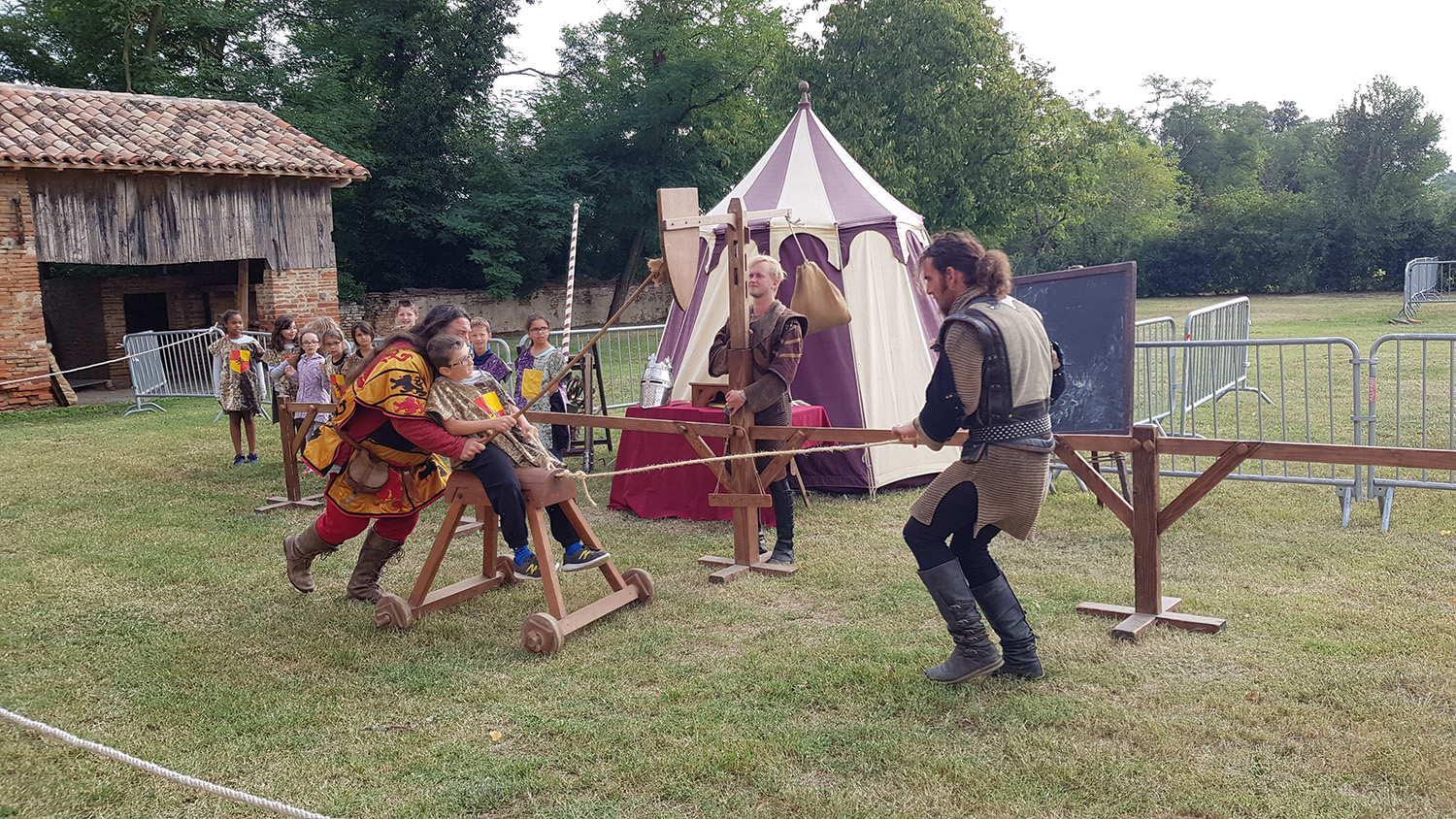 Les apprentis dragonniers
By Cowprod
An entertainment-activity in which they will dress the children up in costume and teach them the art of catching, taming and riding dragons. They'll also learn how to fight with swords and axes (made of foam) and will ride the faithful but frisky wooden horse on wheels. Every little dragon master will get a certificate!
11am - 12am *only sunday
PLACE DE GAULLE
2pm - 2:45pm
PLACE DE GAULLE
5pm - 5:45pm
PLACE DE GAULLE
7:15pm - 8pm *only saturday
PLACE DE GAULLE
Camps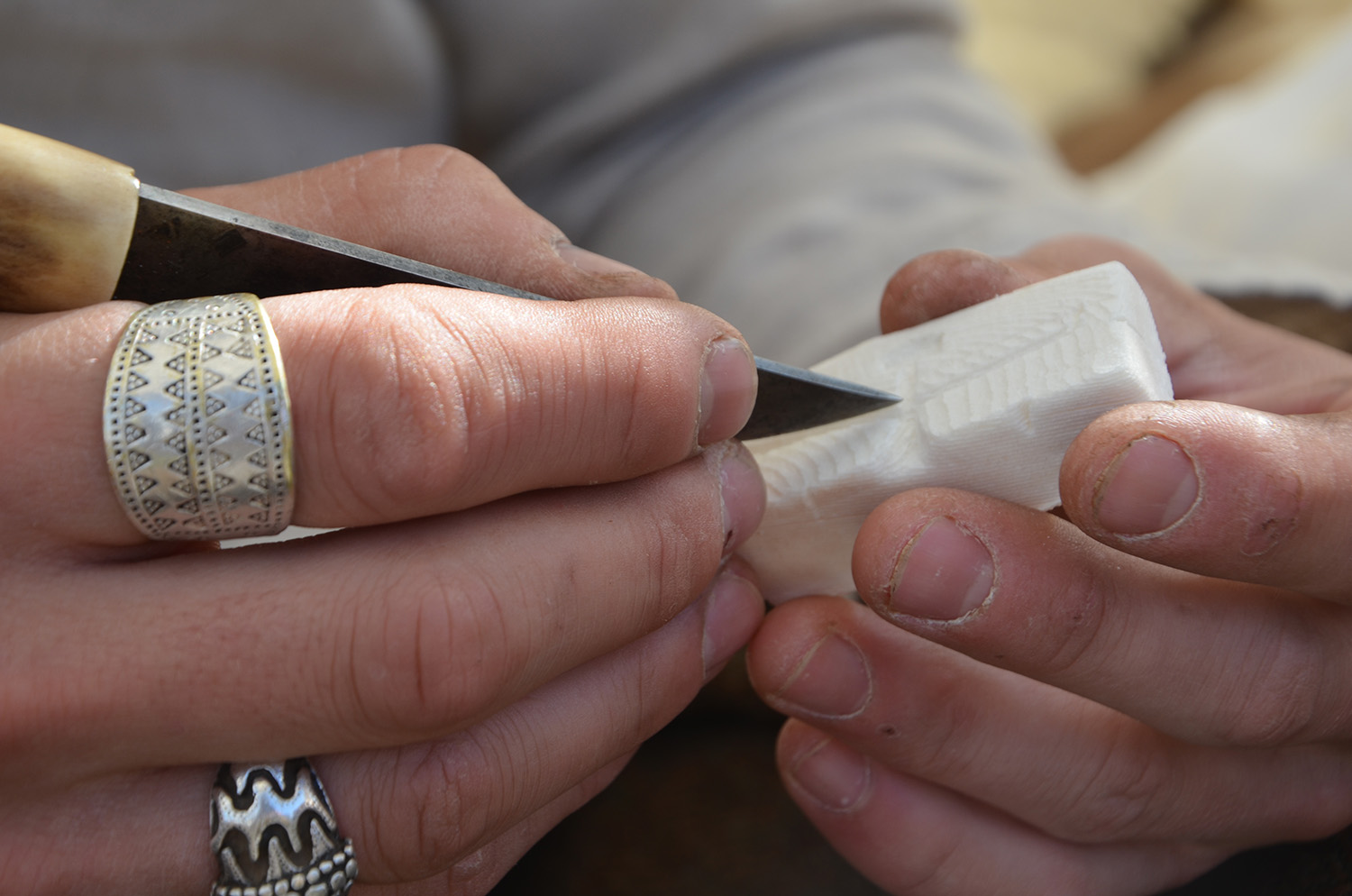 Boendr
Boendr (the free man) will be presenting a Kaupangr
(Scandinavian artisans' and merchants' stall). You can see a
variety of workshops in the encampment - crafts using animal
bones, smelting, weaving, embroidery, woodwork and leatherwork, fishing.
10 am until evening
PLACE DE GAULLE
Camps

Cité d'Antan
A town during the reign of Saint Louis.
The reign of Louis IX, known as Saint Louis (1226-1270) was long but just. You can discover the daily life of the townspeople (merchants, workers and artisans) through workshops and various activities – hygiene, carpentry, stained glass, calligraphy, cooking, herbalism, music and song.
10 am until evening
PLACE DE GAULLE
Camps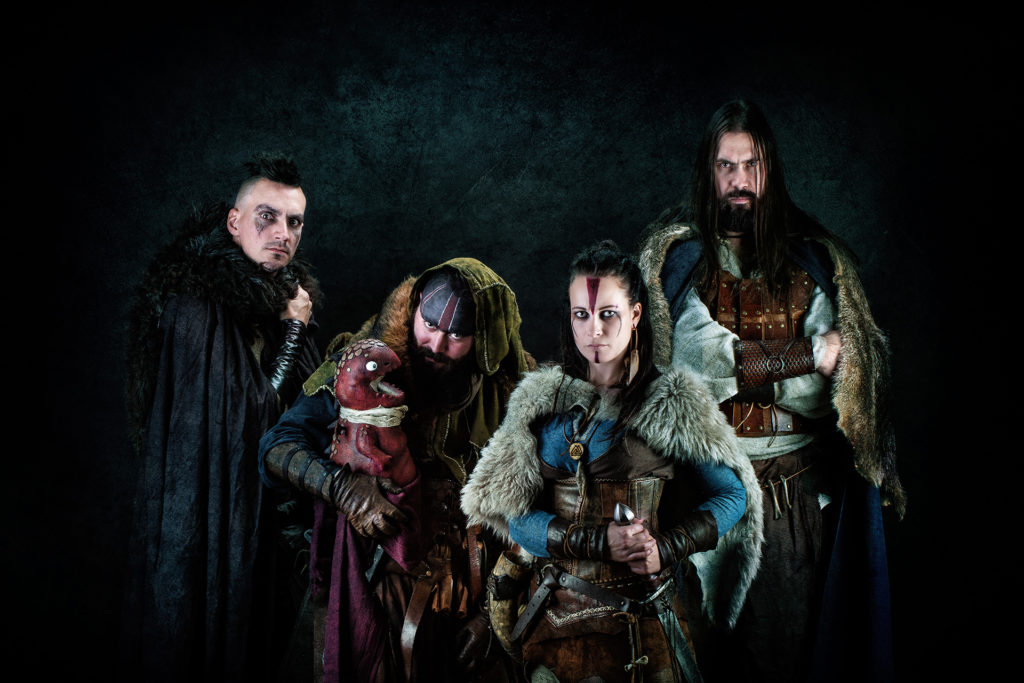 The Surveyors of Guldrasyl
By Rêves Temporels
After countless quests this clan of barbarians has learned a great deal about the legendary creatures known as dragons and will share some of their secrets with you in a variety of activities based on Nordic and Celtic mythology.  
Axe-throwing for children and adults, a dragon museum, potion-making, writing in runes, identifying dragon footprints, physical challenges and games of skill.
10 am until evening
PLACE DE GAULLE
Wild evening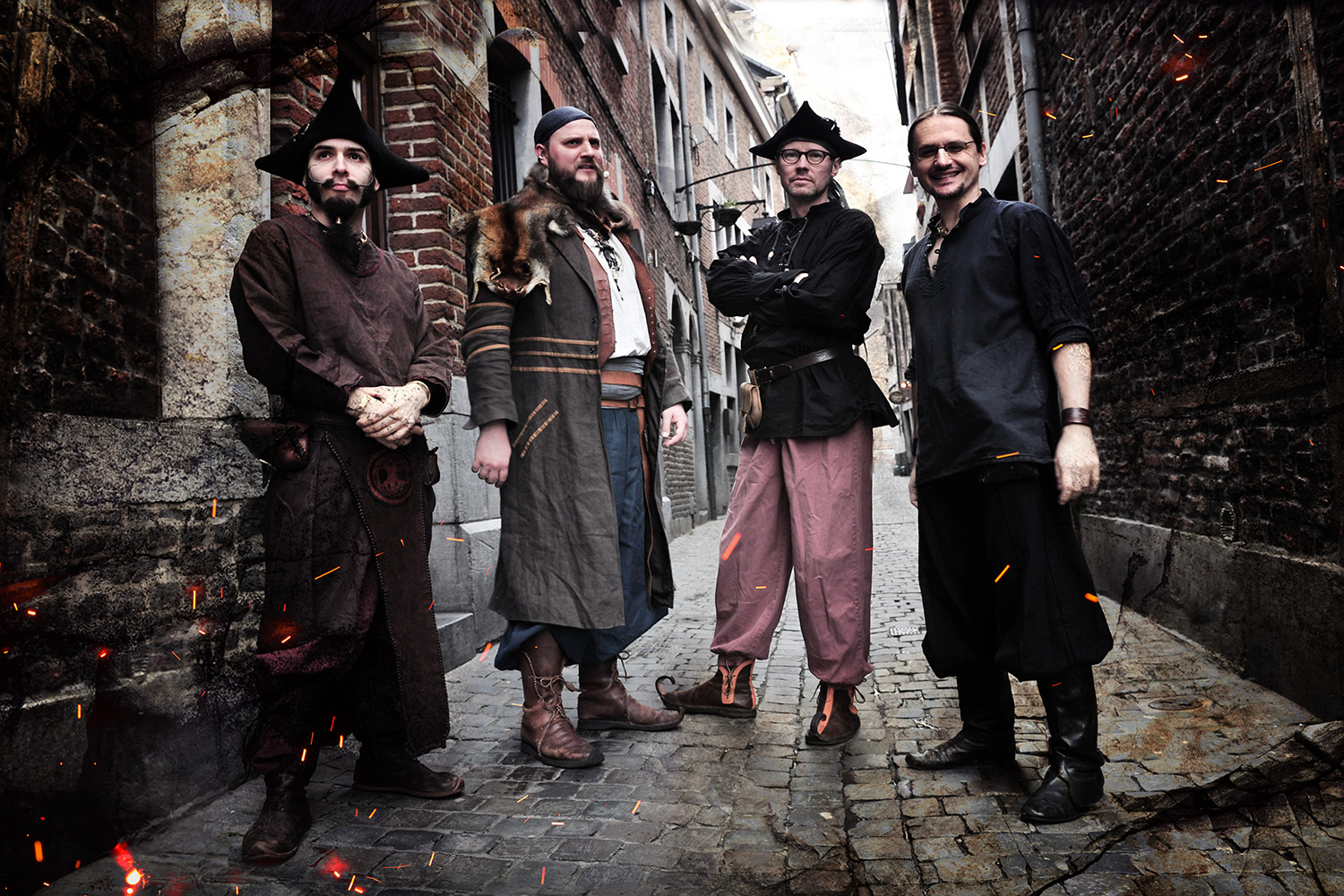 La Horde (Folk'n'roll)
La Horde plies the highways and byways and dusts off folk music with a lively, dancing and off-the-wall show. The four musicians are all passionate about giving the audience a unique performance "outside of time". On stage they concoct a heady brew of new compositions and unlikely reprises, turning each concert into an experience akin to being on the deck of a ship with a hold full of casks of rum whose evaporating alcohol is escaping as "the Angels' share".  (90 mins)
Wild evening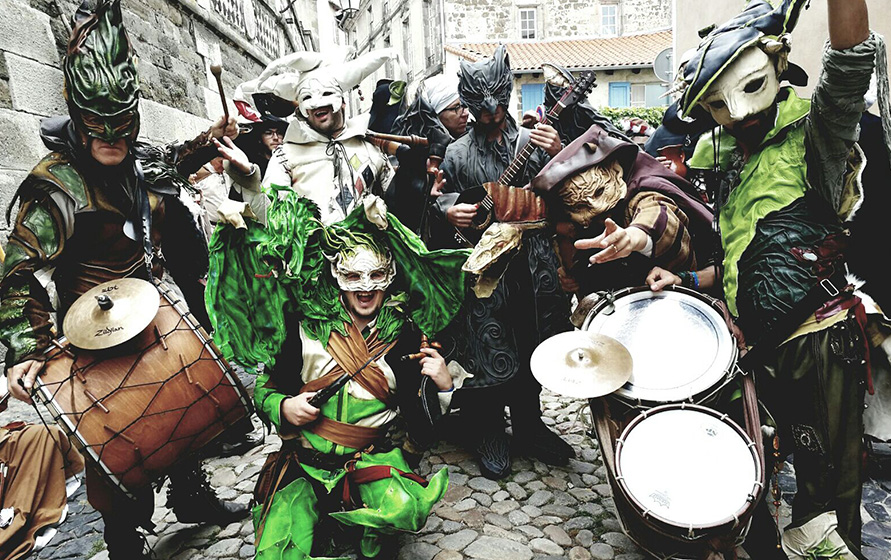 GRIMORIUM
By Turdion
Six "beings" take to the stage – a sorceress, a harlequin, an imp, a warrior, a dragon and a scholar. They are mythological and fantastical, and in direct contact with 'grimoires', the ancient Middle Ages tomes of magic, full of recipes for potions and spells. Their show is a fast-paced visual and musical performance based on these magical works. (40mn)
11am-11:45am
tourist Office
2pm-2:45pm
PLACE DE GAULLE
9:30 pm-10:15pm
PLACE TOWN HALL
Games and activities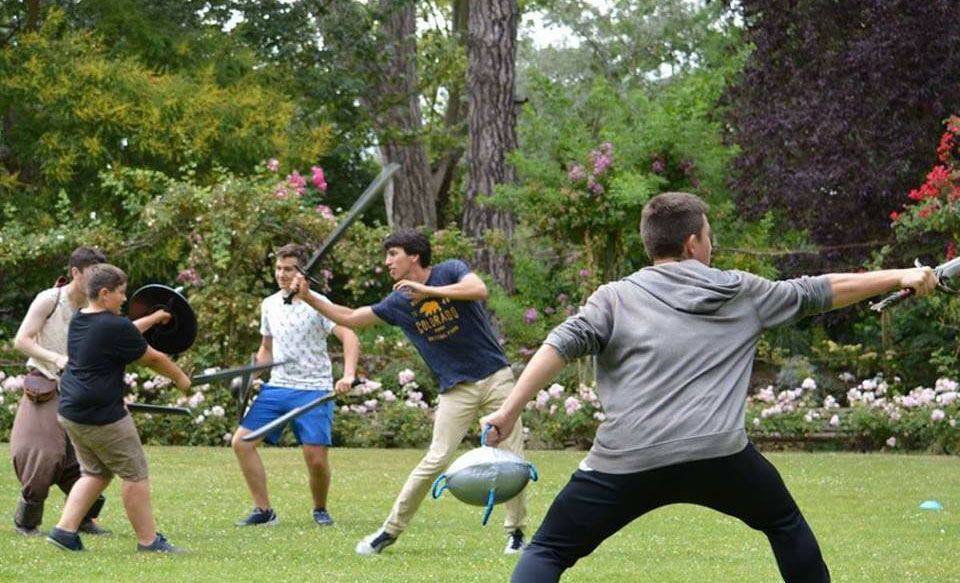 TROLLBALL & PLAYING
By L'association Les Bayeunains
Trollball is a full-scale role-playing game, a mixture of rugby and fencing. By Les Bayeunains association
10 am until evening
Place de Gaulle
Parade

La grande Parade
Fantastical creatures, fire, stilt-walkers, drumbeats….
and FierS à cheval (Proud horses) by the Quidams
Company with their phantasmagorical mounts made of
light and air, and "Les souffleurs de rêves" by the Cielo
Compagny. With more than 500 participants including
companies, performers, acrobats and voluntary
organisations this spectacular, magical event is not to
be missed!
10:30 p.m * in case of bad weather - report on Sunday morning at 11am
Departure from Place Saint-Patrice
Market

EVENING MEDIEVAL MARKET
150 stalls are to be found - creators, artisans and producers shout out
about their wares to the enthusiastic crowds.
(Market also open on Saturday 10am -12pm and Sunday 10am - 7pm)
7pm-12:30am
Around the Cathedral
10am-12pm
Around the Cathedral
10am-7pm
Around the Cathedral